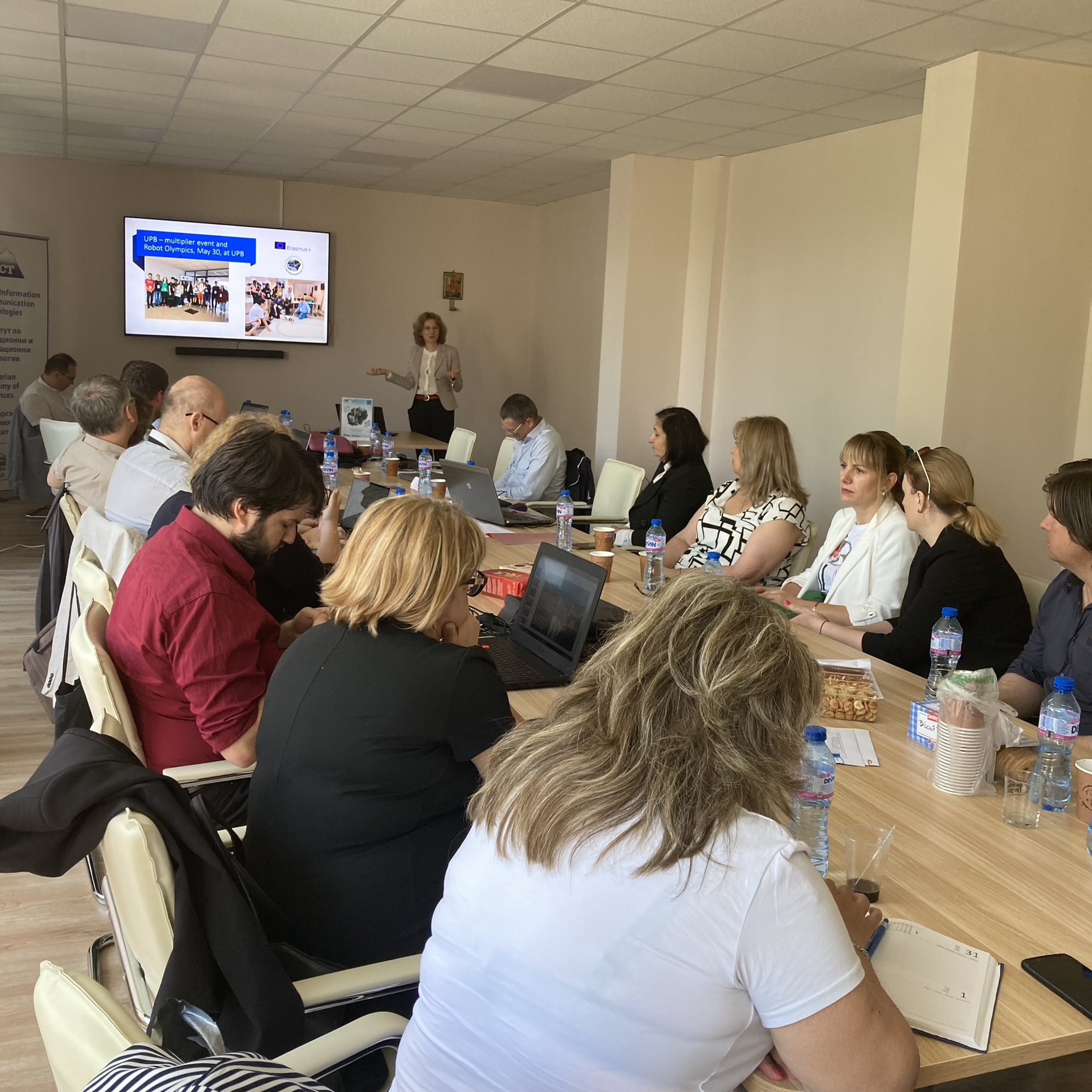 In the period 09-10 June 2023, the partners of the NITRO Clubs EU project consortium gathered in Sofia, Bulgaria, for the fourth transnational meeting. The purpose of this meeting was to review the entire implementation period, lessons learned, discuss the requirements for the preparation of the final report, as well as analyze the possibilities of scaling and ensuring the long-term sustainability of the project.
The fourth transnational project meeting was coordinated by the Institute of Information Technologies and Communications – IICT-BAS, Bulgaria, with the participation of partners from the three countries involved in the project, namely Bulgaria, Romania and Slovakia.
Among the participants of the transnational project meeting were representatives of IICT-BAS Bulgaria, as the project leader, as well as of the partners "Hristo Smirnenski" High School of Science and Mathematics, Bulgaria, Professional High School of Electrical and Electronics Engineering "MV Lomonosov ", Bulgaria, Professional High School of Electrical Engineering and Automation, Bulgaria, Polytechnic University of Bucharest, Romania, National Association of Librarians and Public Libraries of Romania, Romania, Technical University of Košice, Slovakia, and Industrial High School of Electrical Engineering, Košice, Slovakia.
The transnational meeting started with a review of the main aspects of management and the activities carried out (Nayden Chivarov) and the intellectual products created (Monica Drăgoicea, Stefan Chivarov, Matus Pleva, Renat Haluska, etc.). The participants also witnessed a general review of the achieved indicators and the advantages brought by the project for direct and indirect beneficiaries.
During the meeting, Valentina Ivanova presented in detail the steps to follow in order to complete the final report. Afterwards, each organization reviewed the status of the activities for which it was responsible and the results obtained in relation to the assumed indicators.Au urmat prezentări punctuale privind finalizarea produselor intelectuale, și anume: IO1: NITRO edutainment platform (IICT-BAS), IO2: Virtual Robo Lab (Hristo Smirnenski PMG), IO3: IT Robo Clubs Courses (IICT-BAS), IO4: Teachers' toolkit (University Politehnica of Bucharest), IO5: IT Robo Games Platform (Technicka Univerzita V. Kosiciach), IO6: IT Robo Olympics (Professional High School of Electrotechnics and Electronics "M.V.Lomonosov"), Dissemination activities (ANBPR), Multiplier Events & Learning, Teaching, Training (all partners).
On the occasion of the transnational project meeting in Sofia, the participants also had the opportunity to interact with different models of robots, including industrial robots, in various stages of development at the Institute of Information and Communication Technologies – IICT-BAS.
The transnational project meeting in Sofia ended with the discussion of the plans for the future development of the project initiative, the steps to follow in the continuation of communication, monitoring and exploitation of the results efforts, in order to increase the overall impact of the project.
At the invitation of the project leader, the partners visited the National STEM Center in Sofia, where they learned about the initiatives to expand the Bulgarian government's concerns for large-scale STEM education and about the latest investments in the creation of a collaborative robotics and 3DPrinting initiation space.