Sofia, Bulgaria, 12.05.2023 – An event was held in the premises of the National STEM Center in Sofia to present the results of the project NITROCLUBS.EU " under the Erasmus + program.
Demonstrations of the developed lectures and exercises, demonstrations of learning robot simulations, demonstrations of learning robots for line following, maze solving and tele-control were presented within the event.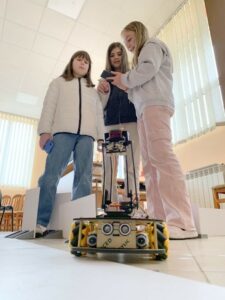 Students from the schools participating in the project representing "Hristo Smirnenski", Secondary School of Science and Mathematics, Bulgaria, Vocational High School of Electrical Engineering and Electronics "MV Lomonosov", Bulgaria, Vocational High School of Electrical Engineering and Automation, Bulgaria competed in the first ever Robo-Olympics – a competition in robotics, where the Mathematics School of Pernik became the winner.
The meeting was attended by visitors from the National STEM Center to the Ministry of Education and Science, South-West University "Neofit Rilski", 119 Secondary School, National Gymnasium of Natural Sciences and Mathematics, "Nikola Tesla" Academy, Secondary English Language School in Pernik, Technical and Construction Vocational High School, Pernik, Vocational High School of Telecommunications in Sofia, The University of Library Studies and Information Technologies, and colleagues from Macedonia.
The event was hosted by the project leader – Institute of the Information and Communication Technologies, Bulgaria.